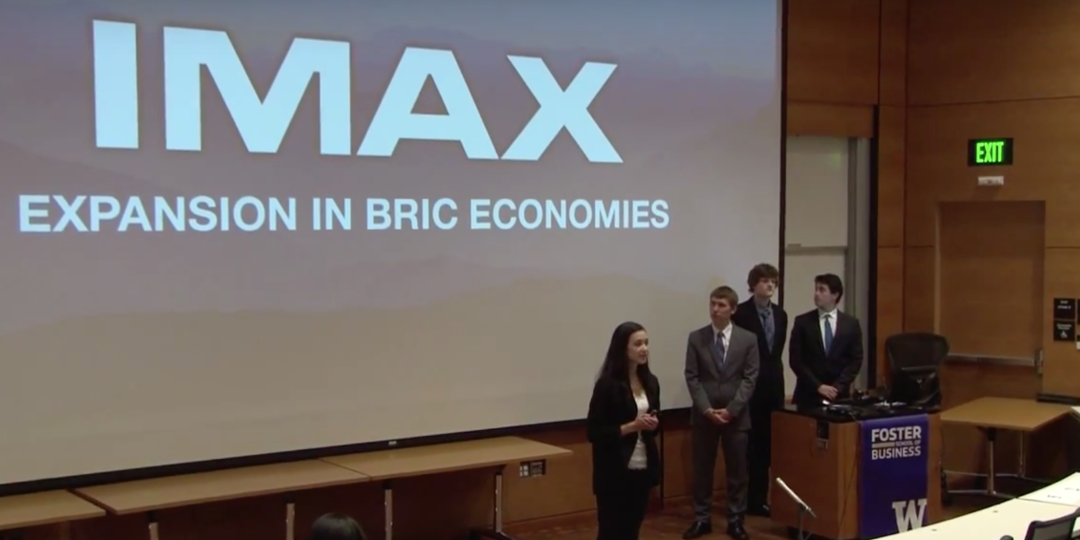 Holland America Line Case Competition 2015
This past week, I competed in my first ever full-scale case competition. After spending so much time on DECA in high school, I knew case competitions would be something interesting to get involved with in college, but I never had a good chance my freshman year. I was never able to get a full team together to compete, until now. The Holland America Line case competition is a 48 hour challenge to solve a business issue and then present it to a panel of judges as if you were a part of the company involved. This year, the prompt was to come up with an expansion plan for IMAX in the BRIC countries (Brazil, Russia, India, China).
I competed in a team with three other sophomores in the business school. None of us had ever done a real case competition before, but all of us had participated in similar presentations in the past. We were competing against 28 other teams from UW and surrounding schools, and four were to move on to the final round in front of an audience.
Our team approached the case fairly casually. We initially broke it up into four different workloads of research and presentation prep, and went our separate ways after a couple hours of collaboration that night. The next night, we came back together with our findings and had to finalize the PowerPoint to be sent in. After several hours of crunching numbers and coming up with a final recommendation and presentation, we sent in the deck with a sigh of relief.
The next morning, our first round of presentations went smoothly. We could tell the judges were following along, but pointed out some of our weak areas in case we were to move on to finals. As it turns out, we were the one group that made it to finals that weren't experienced upperclassmen. It was much more intimidating to present agains the top three groups in our school, but we had a chance to show our presentation in front of some of the most influential people at UW. Our entire group was ecstatic to be able to move on to the final round, but very nervous.
Final presentations came and went, and we were proud of what we did. We watched the other finalists who had done it many times before and learned what we should do better in the future.  Competing in this event has been one of the best experiences I've had at UW so far, and I can't wait to get involved in more case competitions in the future. I hope to keep learning from my experiences and one day be selected to travel and compete for the University.
Watch our final round presentation here: